Never miss out on another potential trade!
Setting alerts on TradingView is essential to any trader who wants to monitor different parameters occurring across any market and timeframe. Currently, we offer buy & sell alerts for all 3 types of signals that come with Origami Algo, and we also offer multiple alert types for Origami Oscillator.
To begin setting an alert, you will want to click the "Alert" button located at the top menu bar on any chart
Pressing this will bring you to the Alert Menu which allows you to customize many settings such as the condition, the frequency of the alert, the expiration time, where you are alerted, and even the name and message that appear with the alert.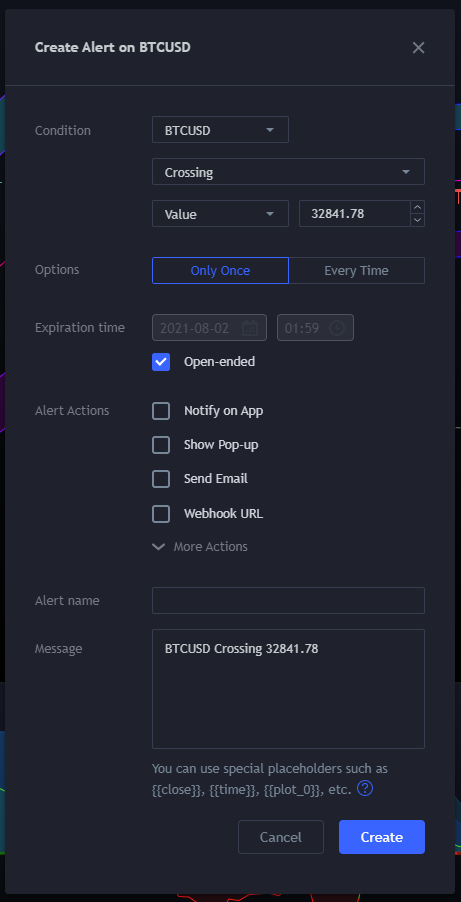 From here you will want to click on the very first button (in this case it says BTCUSD because that is the chart we were viewing while making this guide) and select which of our two indicators you want to use for alerts. Clicking the first button will open the dropdown menu pictured below.
MAKE SURE THE INDICATOR YOU WANT TO USE FOR ALERTS IS ACTIVE ON THE CHART OR YOU WILL NOT SEE THEM IN THE CONDITION DROPDOWN MENU!
Once you have done this, you may notice that the Alert Menu has changed slightly. We used Origami Algo for this example, but regardless, the conditions below your main condition will now reflect the indicator you have selected. You may also notice that there are now 4 options to choose from when picking out the frequency of your alert.
Now you will want to pick from the second menu and decide which conditions you want to select alerts for. Below you will see all the conditions offered by Origami Algo & Origami Oscillator. You can choose any of these conditions, and even set alerts for multiple different ones. Alerts can only be set one at a time.
Origami Algo Conditions Menu
Origami Oscillator Conditions Menu
Next you will select the alert frequency from the "Options" section. Each alert frequency option means something different. We recommend choosing Once Per Bar Close to avoid potentially incorrect alerts being fired.
Only Once
- The alert will only trigger once and will not be repeated
Once Per Bar
- The alert will trigger every time the condition is met, but not more than 1 time per bar
Once Per Bar Close
- The alert will trigger every time the condition is met at bar close
Once Per Minute
- The alert will trigger every time the condition is met, but not more than 1 time per minute
The second to last part of setting an alert is choosing its expiration time as well as where you want the alert to popup. Open-ended alerts will continue alerting forever each time the condition is met, while alerts with an expiration date will stop once the expiration date & time have passed.
As for the "Alert Actions" section, this is up to you depending on how you want to receive your alerts. You may choose to be notified through the mobile app, desktop pop-up notifications, emails, webhooks, and even SMS. You can even set a sound to play if you'd like!
Alert Expiration / Actions Menu
The absolute last step is choosing an alert name and message to print every time an alert fires. We left the alert name blank, but coded in a custom message for each of the alerts. It is best to leave the alert messages default unless you really want to change it.
Alert Name / Message Menu
Once you are done, just click create and you're done! If you'd like to view any alerts you've created, you can click the button picture below which is located towards the top right of your side bar on any chart.
Signals in the side bar can be paused temporarily, edited, or even deleted by clicking the corresponding buttons that appear when you hover over each alert.